Expressing sympathy is a way to show you care when someone faces the loss of a friend or loved one. In Albany, Danker Florist offers beautiful floral arrangements that can help you convey your feelings of sympathy. Sympathy is a feeling of pity for someone else's misfortune. Expressing sympathy doesn't mean you understand what the person is going through. It simply means you care and want to lend your support.
Floral arrangements and a touching card are excellent options when looking to show sympathy. However, when you have the arrangement in hand and sit down to write the card, you may find yourself facing a loss for words. Finding a way to convey your sympathy in a supportive manner, without negating the emotions the person feels, is hard. Often, a short, sweet, and caring message is all it takes.
Are you still wondering what to write? Here are some guidelines and suggestions that will help you write a condolence card that shows your care. Choose one and tweak it to match your own sentiment and relationship with the recipient, or as a starting point to create your own original expression.
What to Write for the Loss of a Spouse
The loss of a spouse is one of the deepest levels of loss possible. When someone you care about loses their spouse, they lose not only an important relationship, but also their life partner, co-parent, and best friend. You may find yourself at a loss as to what to write in the condolence card.
Loneliness is a very real concern for someone facing the loss of their husband or wife. In your sympathy card, convey your support and the fact that your friend is not alone. Some simple ways to do this include:
"The love of a spouse cannot be replaced. I want you to know I am thinking about you in this difficult time and am here when you need me."
"Words cannot express the sorry I am feeling for you. Give me a call at any time, even just to say hi."
"The love you had for your spouse can never be taken from you. Their essence will always be with you and will live on in memories. Hold on to that when the days are hard."
"Your spouse was an amazing person. I cannot imagine the grief you are feeling. My thoughts are with you, and I'm here to talk."
What to Write for the Loss of a Child
No parent expects to survive their child. When a child passes away, it creates a deep trauma for the grieving parents. You may struggle to find the right words to say.
As you write the condolence card, remember that your words can't heal this hurt. You can, however, provide support, and that's what your card needs to show. When writing this card, use the child's name whenever possible.
"We can't take away this hurt, but we want to send our love. Our prayers are with you."
"We will never forget your child. She brought us so much joy. We are thinking of you and your family in the days ahead."
"I feel blessed to have known your child. His personality brought joy to all who knew him. I am praying for/thinking of you."
"While nothing can heal the heartache you face, love lives on in the memories you created together."
What to Write for the Loss of a Parent
The loss of a parent may not come as a surprise, but it still creates a deeply-felt void. If you've never experienced this loss, you might not know what to say.
Often what you write for this card depends on whether it was the mother or father who passed away. For fathers, focus on what the man meant to his bereft child, or what his character meant to you, with ideas like these:
"Your father's generosity touched many. He will live on in their memories."
"Your father's sense of humor was a true gift. I will always remember the laughs. I am sorry for your loss."
"Your father's love and character shines forth in you and your siblings. His memory will live on as you further his legacy."
For the loss of a mother, focus on her nurturing role in your children's life. Here are a few ideas:
"Your mother's love touched my life. She was a true friend who will be greatly missed."
"My sympathies on the loss for your family. Your mother was an amazing caretaker and woman. We will miss her too."
"My favorite memory of your mom was when she brought cookies after my own baby was born. Her legacy will live on in the kindness I see in you. I am sorry for the pain you're experiencing."
"All the forces on this planet will never beat that of a mother's love (Elle Smith). As you grieve your mom, know that her love lives on in your memories of her."
What to Write for the Loss of an Acquaintance
Sometimes a loss isn't a close family member, but it still hurts. Losing a friend or coworker can bring daily pain. Every time that person goes to work or other places where they once spent time with that person, they remember their loss.
This may be a situation where you could use the card that comes with the flowers. Some simple heartfelt ideas include:
"I'm sorry to hear about your loss. I am here for you when you need a friend."
"Wishing you strength in the days ahead as you adjust to this new normal."
"Your friend (use their name if you can) will be in our hearts."
Signing the Sympathy Card
Once you've written your message, you need to end the card. This may trip you up once again. Should you sign it "Love," "With sympathy," or something else?
The signature line you choose will depend on your relationship with the person. If you are close, "Love" may be appropriate, but other options include:
Praying for you
With my deepest condolences
Wishing you peace
With sympathy
Thinking of you/your family
Choose one that fits the tone of your message and your connection with the person receiving the card and gift.
Sympathy Messages for the Flower Card
If you choose to give flowers without sending a separate "Hallmark" sympathy card, then you'll have a flower card to sign. It may be all you need in lieu of a more formal card, if you're sympathy message is short. If you are also sending a card, it's still best to write a small message on the flower's card.
Some options for writing a sympathy message on the flower card include:
Thinking of you
With my sympathy
Our warmest condolences
Please accept my sympathy/condolences
Our thoughts and prayers are with you
We love you and care about you
With caring thoughts
Honoring (name of the deceased) with you as you grieve
Sending remembrance of your loved one
We will miss (name of the deceased)
You may choose to include a quote about love and loss. If you do, it's a nice touch to credit the author of the quote. Here are some that work well for sympathy flowers:
"A great soul serves everyone all the time. A great soul never dies. It brings us together again and again." - Maya Angelou
"Life is eternal, and love is immortal; Death is only a horizon." - Rossiter Raymond
"Like a bird singing in the rain, let grateful memories survive in time of sorrow." - Robert Louis Stevenson
"To live in hearts we leave behind is not to die," - Thomas Campbell
Then, sign your name on the flower card. That often is enough to convey your sympathies.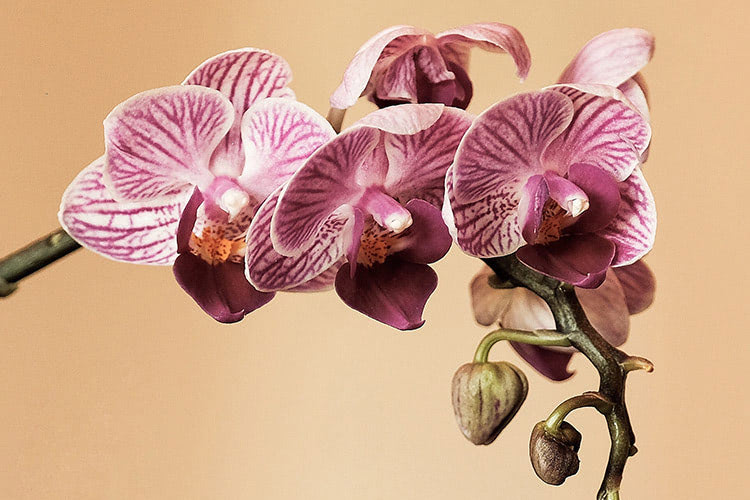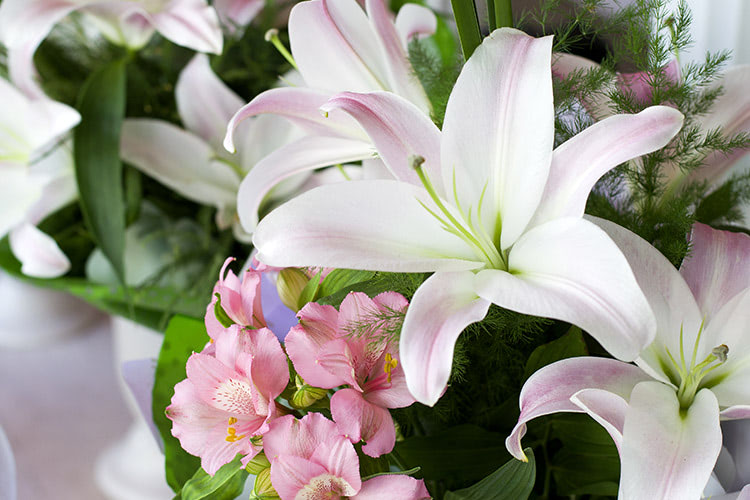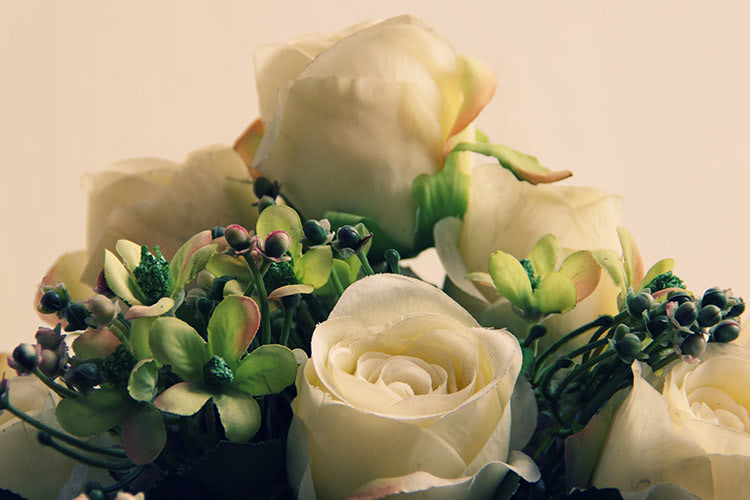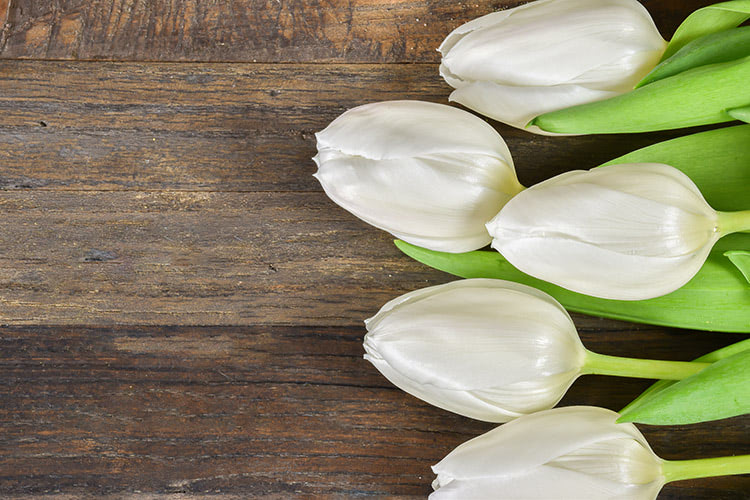 Where to Send Sympathy Flowers and Cards
Once you've chosen your sympathy floral gift, you need to know where to send it. If your friend's loss was a close family member, consider sending flowers to the funeral or visitation location.
For someone mourning the loss of a friend or coworker, send flowers and a card to their home or work. You can also hand-deliver the gift if you see the person regularly.
In Albany, Danker Florist has your needs covered. With a wide selection of floral arrangements featuring lilies, roses, carnations, and more, we make it easy to express sympathy.
Shop now to find the right arrangement to convey your support during a time of loss. We happily deliver to Albany and the surrounding communities. Let us help you show your support through the gift of flowers.
Types of Flowers to Send for Sympathy
Flowers are imbued with special meanings and symbolism, and choosing the right flowers for your sympathy gift can help you convey the right message. The first place to start is to consider the person who has passed on. If they had a favorite flower, consider sending an arrangement composed of only that bloom.
If you don't know their favorite flower, consider the symbolic meaning of the flowers you do send. For example, Chrysanthemums are symbolic of mourning and grief in many Pacific Asian countries and are commonly used in funeral bouquets in Europe.
Lilies are the most common flower seen in sympathy arrangements. These have deep connections with Christianity and are a symbol of innocence, which can be comforting to the bereaved. Lilies also mean peace in Asian cultures, and many facing a time of grief can benefit from wishes of peace.
Roses work well for most occasions. Dark crimson shows deep love and mourning, making crimson roses a good choice for a funeral bouquet.
If the person who passed away was young, white carnations, a symbol of youth and innocence, make a touching gift. Red carnations speak of love and admiration, making this a popular option for sympathy flowers as well.