Eucalyptus is one of the most sought-after green plants around the world. It offers an expansive variety of shapes and a collection of hues that create a spectacular addition to many flower arrangements, bouquets, centerpieces, and swags or floral accents. Its natural appearance provides a lush background, allowing flowers to enter the spotlight and shine. In addition to enhancing a collection of blooms, eucalyptus is a popular plant to find in homes as decor or a refreshing fragrance that fills the air.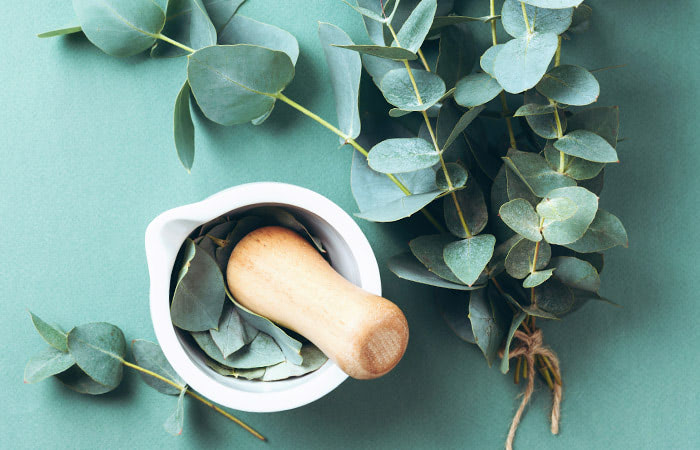 About Eucalyptus
When we think of eucalyptus, we generally think of a full, lush sprig of stems with round, green leaves that come from trees. Trees that produce eucalyptus are a part of the Myrtle or Myrtaceae family, and most can be identified by their thick, leathery, waxy appearance with bluish-green colors. While these trees are native to Australia, eucalyptus can thrive in most temperate climates and, today, is grown all around the world.
Characteristics of Eucalyptus
Eucalyptus is an easily recognizable green plants. Their generally round, thin leaves come in shades of green with hints of blue, gray, and silver, depending on the type of eucalyptus. Dried eucalyptus will become muted over time and offer more silvery colored leaves. As one of the most aromatic plants, fresh eucalyptus has a scent that can be described as woodsy and earthy, mixed with citrus and mint or a combination of honey and menthol. Once dried, eucalyptus loses this reinvigorating scent.
Eucalyptus Name Meaning
The name "eucalyptus" is a product of the Greek words 'eu' and 'kalyptos,' and translates to "well covered." Eucalyptus flower buds that have yet to bloom are covered and protected by an abundance of the lush eucalyptus leaves that we adore.
Eucalyptus Symbolism
Eucalyptus has become a wonderful symbol of strength, protection, and abundance. As such, Australian Aboriginals practiced burning eucalyptus leaves to purify and negate negative energy and saw eucalyptus as a sacred plant.
Popular Eucalyptus Varieties
Eucalyptus has approx. 700 varieties. Some of the most popular are:
Baby Blue, Gum Drop, Gunni, Rainbow Tree, Pravifolia, Seeded, Silver Dollar, Tasmanian Blue Gum, True Blue, and Willow.
Fun Facts About Eucalyptus
Eucalyptus is believed to have many health benefits, such as helping reduce inflammation, loosening muscles, suppressing a mild cough, easing congestion, working as an antiseptic, and supporting overall relaxation. However, eucalyptus should never be ingested orally.
Although eucalyptus is the main source of nutrition for koalas, it is toxic to pets, including dogs, cats, and horses.
Since eucalyptus offers a fresh, calming, and relaxing aroma, it is often included in candles and bath and body products like lotions, creams, soaps, bath salts, and oils.
Many people hang fresh eucalyptus in their shower to help clear their heads and open their sinuses.
Baby Blue eucalyptus is thought to be the best kind of eucalyptus to hang in the shower since it has the most prominent scent.
Bugs, like flies, mosquitoes, and small insects, tend to avoid eucalyptus, making the plant a natural bug repellent.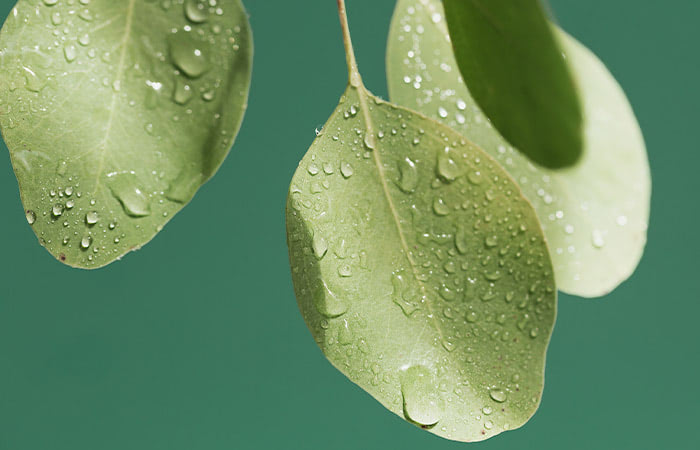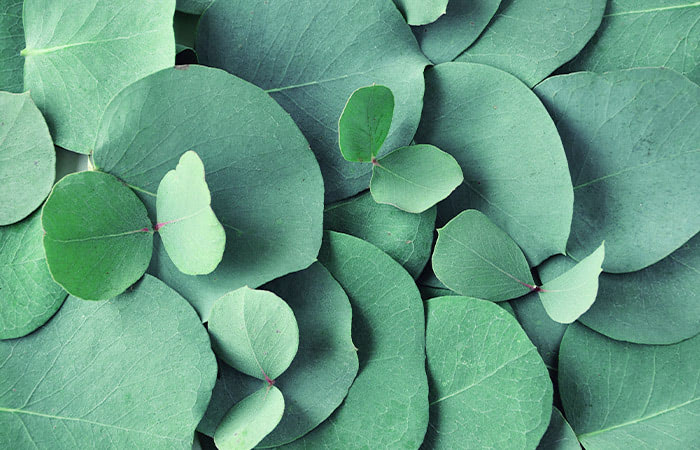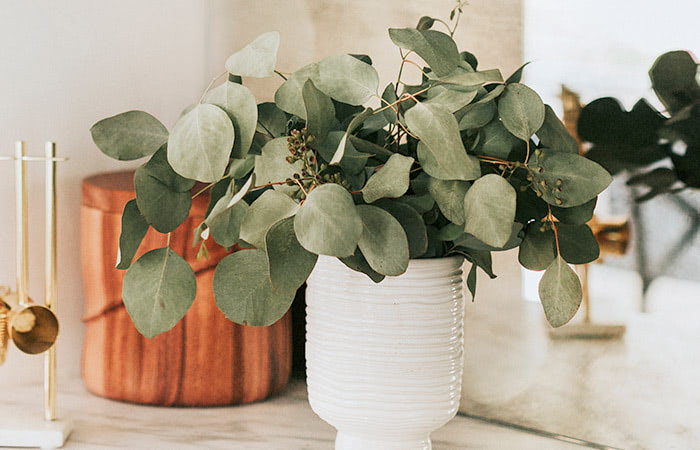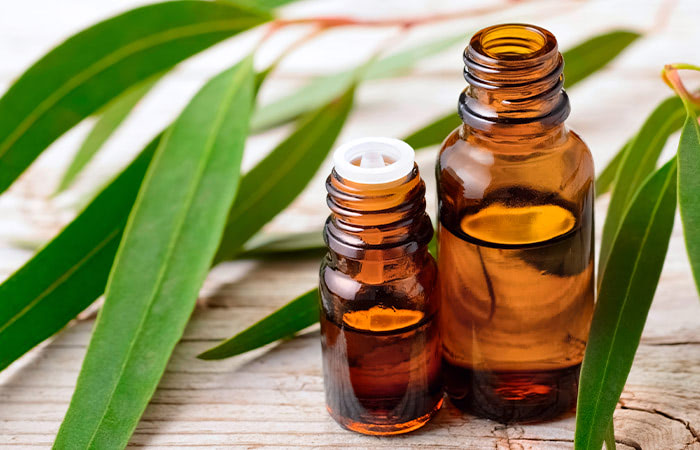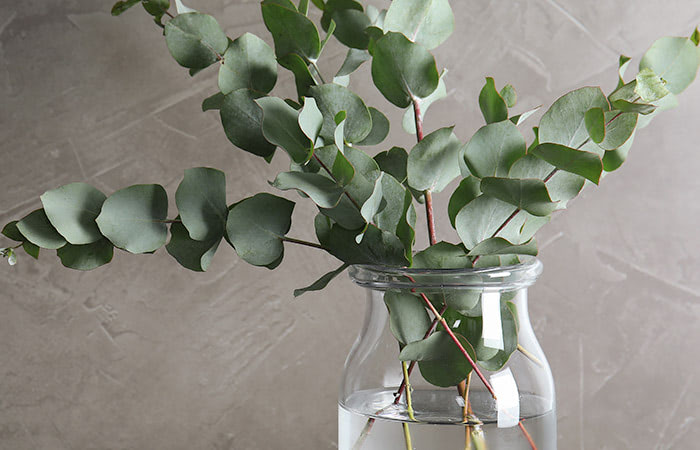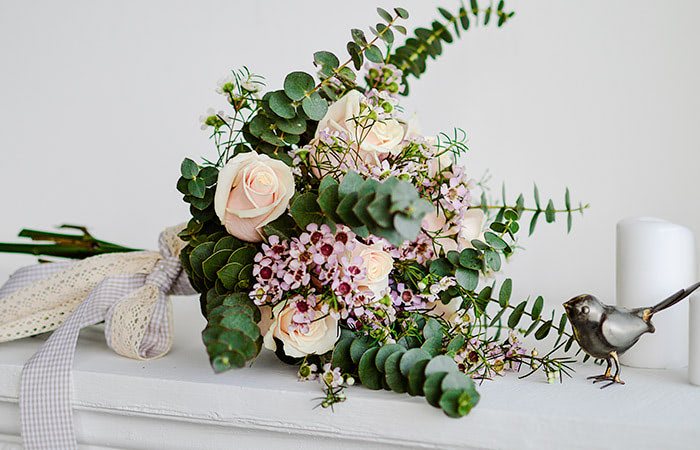 Eucalyptus Occasions
Eucalyptus has proven its place in almost any floral arrangement celebrating an array of special occasions. It pairs well with popular blooms, especially roses, peonies, ranunculus, orchids, and wax flowers and has a long vase life of three to eight weeks. No matter the special event or celebration, eucalyptus is the perfect greenery to enhance bouquets, adding dimension and diversity.
On its own, eucalyptus is phenomenal wedding decor. It can be used as a swag on top of wedding signs or frames, tucked around votives and candle sticks on tables, or down the center of a long table as a natural and unique table runner. Since the plant is so versatile in appearance and has hundreds of varieties, eucalyptus can help create boho, chic, elegant, vintage, modern, or classic weddings any time of the year.
When looking for a beautiful bouquet or floral arrangement, selecting one that includes eucalyptus is truly exceptional. With its meaningful symbolism and revitalizing aroma, it can be the perfect way to enhance both the flowers it surrounds and the mood of any recipient.