Larkspur is an unforgettable bloom, with tall stalks and delicate, airy petals that hold a great amount of symbolism and intriguing history. Their shape creates dramatic levels and stunning dimensions in any floral design, especially when nestled among other annual blooms. Take a quick journey with us to discover interesting facts about larkspur and how to best enjoy these extraordinary flowers.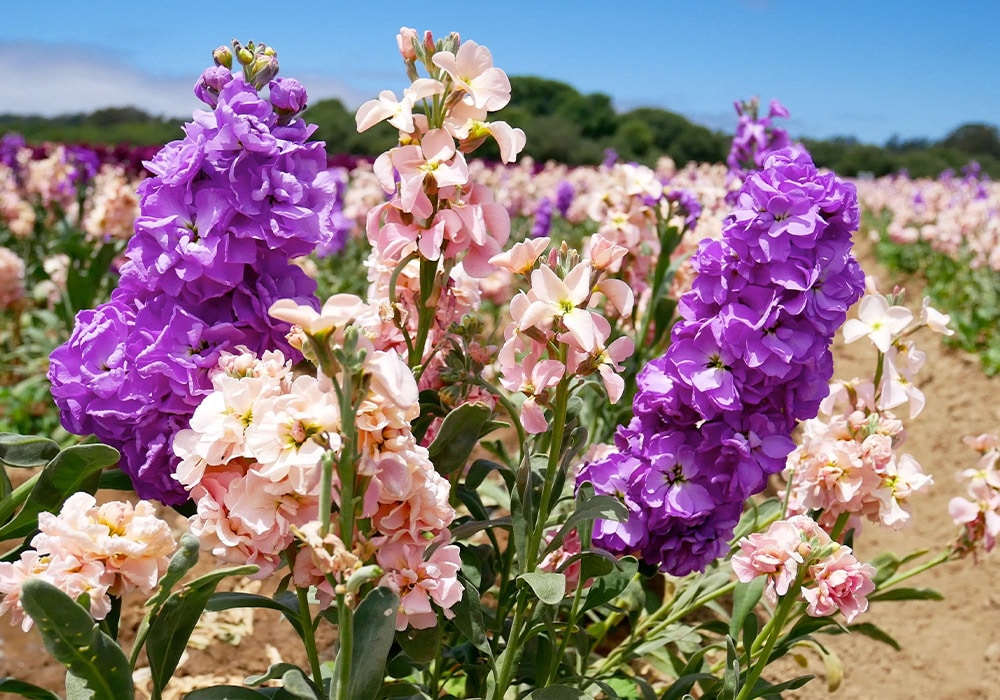 About Larkspur
Larkspur is a striking and uniquely-shaped flower with history and symbolism that proves it to be perfect for many occasions. It belongs to the Ranunculaceae, or Buttercup, family and the Delphinium genus, which is where it gets its scientific name. In fact, there is general confusion between the flower names "delphinium" and "larkspur" as they are often used interchangeably. While delphinium is used in the science community and beyond, larkspur is the common name for this flower.
Characteristics of Larkspur
As a summer annual bloom, larkspur offers magnificent tall spiked petals in stunning shades of pink, indigo, blue, purple, and white. They are typically noticed as a "classic cottage garden staple" as larkspur look absolutely gorgeous bunched together in summer gardens or on a coffee table in a full pastel arrangement. With noteworthy height, a larkspur's irregularly shaped petals lying on the upper portion of the stalk are alluring to the eye. Although larkspur has little to no fragrance, you can experience a crisp and naturally clean, fresh scent if you find yourself close enough to the bloom.
Larkspur thrives best in places that experience cool climates and humid summers, like the western portion of the United States. Larkspur's ideal environment should be semi-sunny, around 70 degrees, and paired with a regular watering schedule of two or three times per week. When taken care of properly, larkspur can grow up to three feet tall and 18 inches wide. As an annual garden flower, larkspur has the remarkable ability to reseed itself year after year and bloom in your garden each summer.
Popular Larkspur Varieties
With over 300 varieties of larkspur, here are the ten most popular.
Astolat Larkspur
Black Knight Larkspur
Blue Mirror Larkspur
Cassius Larkspur
Dwarf Larkspur
Galahad Larkspur
Golden Larkspur
Guardian Lavender Larkspur
Red Lark Larkspur
Summer Skies Larkspur
Larkspur Name Meaning
The name "larkspur" comes from the quirky and eye-catching appearance of the flower. Its tall, claw-like blooms are said to resemble the long, sharp claws of a meadowlark or the lark bird. The petals of larkspur also mimic the silver prick spurs worn on the heels of medieval knights' riding boots.
Larkspur Symbolism
As larkspur typically blooms in the warm summer months, this flower often represents lightness, pure fun, and the desire to be humorous. In addition, the larkspur is a symbol of an open heart, sincerity, strong love bonds, and dedication.
Fun Facts About Larkspur
Larkspur, along with water lilies, is the July birth flower.
Larkspur is toxic to both animals and humans due to its poisonous alkaloids.
Many cultures throughout history believed that larkspur had the ability to ward off evil. Therefore, planting larkspur in your garden or near the front door was a symbol of protection.
In England, people would also sprinkle larkspur in their bathwater for further protection.
If you want to attract butterflies and hummingbirds to your garden, plant some larkspur.
Native Americans utilized the petals from blue and indigo larkspur to create blue dyes.
In the Victorian Ages, larkspur was a popular gift for friends and loved ones.
During the Battle of Troy, Greek Mythology tells us that larkspur bloomed where Ajax was killed and his blood spilled on the ground.
Larkspur Symbolism by Color
Larkspur Occasions
There are many occasions where larkspur is a welcomed gift, sentiment, or symbolic way to celebrate. One of the most obvious occasions is July birthdays, as larkspur is the birth flower for July. When you want to honor a friendship or show your love and passion towards a significant other, larkspur is the perfect bloom. Birthdays and anniversaries are especially beautiful moments to include larkspur in a bouquet or arrangement.
White larkspur is a fantastic housewarming gift as it is not only a symbol of new beginnings but is also believed to bring good, positive energy and protection into a new home. Pink larkspur is a popular flower to find in bridal bouquets and wedding arrangements as it is a graceful and elegant bloom representing romance and deep affection.
Browse our online collection to find the most stunning selection of bouquets and arrangements with larkspur for your friends and loved ones.